From John F. Kennedy's old Palm Beach digs to Jeff Bezos's new Beverly Hills manse, these are the sales that took the ultra-prime market by storm.
Let's face it, 2020 is a year most would like to forget—and that's no less true of the real estate market. The Covid-19 pandemic dealt a catastrophic blow to the global economy, and it changed how we did business. Of course, the view depends on where you're sitting, and those with means still bought their share of lavish, over-the-top homes. The pandemic, however, shaped the contours of the prime market unlike any factor in recent memory. As high-density cities like New York City struggled to move their square footage, more tucked-away (read: socially distanced) coastal areas like Montecito, California, and Palm Beach, Florida, saw huge spikes in activity. (Indeed, Palm Beach is now among the hottest real estate markets in the world, with contracts jumping
up by 62 percent in September alone
.) So, while condo towers and townhouses languished, private beach homes and secluded mountain abodes have never been in higher demand. Noticing a theme here? In one of the strangest, most alienating years on record, buyers ultimately prized seclusion and privacy above all else. As part of our annual ritual, we've crunched the numbers to round up 20 of the most expensive homes that sold in this very weird year. Consider it one final look back before putting 2020 in the rear view for good.
via
Photo : The Agency/DIRT
20. Oakview, Santa Barbara, California — $45.5 Million
It's been a big year for Rob Lowe's real estate portfolio: In addition
to offloading these Montecito digs for $45.5 million
, one of the priciest transactions in the already ritzy neighborhood, he also picked up two new homes in the same area: a 6.7-acre property for $13 million and a fixer-upper for $5.2 million. (He also dropped $3.75 million on some newly renovated digs in Beverly Hills.) The West Wing actor sold this particular mansion, which he and his wife, Sheryl Lowe, custom built, to health care executive Jack McGinley and his wife, Julie McGinley. It's not hard to see the appeal—the home is a sprawling 10,000 square feet, with 20 rooms, and sits on a 3.4-acre plot of land that includes a guest house, koi pond, gardens, tennis court and pool. Architecturally, it's inspired by homes found in the Virginia countryside where Lowe grew up—there's even a piano bar where he would reportedly perform.
Photo : Google Maps
19. Collado Hueco, Palm Beach, Florida — $46.7 Million
Designed by noted South Florida architect Addison Mizner, Collado Hueco, which translates to "Hollow Hill," is a landmarked estate. The 19,000-square-foot home previously belonged to the late A. Alfred Taubman, a billionaire and philanthropist who made his fortune developing shopping malls. As the owner of Sotheby's, he was convicted of participating in an elaborate price-fixing scheme with Christie's in 2001. The buyer is reportedly magazine publisher and art collector Peter Brant. Brant was likely swayed not just by the architectural name behind it, but by the home's specs as well; it has not one but two simming pools, a separate, five-bedroom guesthouse and 330 feet of ocean frontage. There's even a private tunnel that leads from the house to the beach. Still, even a big, historic property like this one struggled to find a buyer, as it was first listed in January of 2018 for $58 million.
Photo : The Williams & Williams Estates Group of The Beverly Hills Estates
18. Opus, Beverly Hills, California — $48.4 Million
2020 hasn't been the best of years for Nile Niami. The film producer turned mega-mansion developer placed one of his West Hollywood spec homes in bankruptcy, was fined for hosting large gatherings at one of his glitzy homes and
sold Opus for a steep discount of $52 million
. On paper, it certainly seemed an appetizing enough buy—the mansion was designed by sought-after California architect Paul McClean and features a 12-car auto gallery plus an 80-foot indoor lap pool. So what went wrong? Some might chalk it up to the home's marketing. It was initially touted as a sexy bachelor pad and listed for $100 million, complete with gold accents and stone finishes. That strategy was scrapped this year in favor of a more family-friendly approach—the Champagne refrigerator became a walk-in pantry, the dark floors were replaced with a lighter oak, and they even added a dinosaur skeleton to the basement. It's not all doom and gloom for Niami, either: The developer recently sold one of his homes in Hollywood Hills and his real magnum opus, "The One," will reportedly soon come online for $500 million in Bel Air.
Photo : Bing Maps, OConnor-Arroyo/AFF-USA.com / MEGA
17. Ellen DeGeneres's Montecito Estate, Santa Barbara, California — $49 Million
Ellen DeGeneres and Portia de Rossi aren't strangers to the world of house flipping—this year alone they
sold a Bali-inspired mansion for $33.3 million
and an English countryside-style residence for $6.75 million to none other than Ariana Grande—both in Montecito. Not to be outdone, the couple dropped a whopping $49 million on a compound in the same neighborhood, their biggest real estate transaction to date. The estate consists of three separate land parcels totaling over four acres, with a "barn" structure designed by renowned architecture firm Olson Kundig. There's also a large lily pond on the property. DeGeneres and de Rossi bought the place from SNL alum Dennis Miller and his wife, Carolyn Espley-Miller, who owned it since 2006. Will they end up flipping this one, too? Time will tell.
Photo : Google Maps
16. Arvida Parkway, Coral Gables, Florida — $49 Million
Palm Beach gets most of the million-dollar action in Florida, but this year a waterfront mansion in Miami-Dade County also made waves. The 22,000-square-foot property resembles a tropical resort, with three pools, a climate-controlled outdoor pavilion and a guest house. It changed hands from Benjamin Leon Jr., the founder of Leon Medical Centers, to attorney John Ruiz. A hefty price, yes, but not quite what the home hoped for, as it first came onto the market for $59.5 million. Still, it's one of the largest residential transaction ever in South Florida, so that's something. (Behind the next entry on this list, of course.)
Photo : Todd Michael Glaser
15. Star Island, Miami Beach, Florida — $49.5 Million
Turns out you can sell a spec home during a global pandemic. That's what prolific homebuilder and Lennar CEO Stuart Miller did anyway, offloading this newly constructed, 17,000-square-foot estate for nearly $50 million. Its location likely has something to do with it, as the property is located on Star Island, a man-made isle in the Biscayne Bay that's generally considered one of Miami Beach's toniest enclaves. It's also great for parties, as the Super Bowl LIV "Big Game Big Give" fundraiser was reportedly held here in February, with tickets costing $12,500 per person. Breaking Bad stars Bryan Cranston and Aaron Paul were among the many attendees.
Photo : Google Maps
14. Dean Koontz's House, Newport Beach, California — $50 Million
While real estate in big urban centers didn't have much this year, coastal homes thrived. Take Newport Beach, which saw its priciest sale ever this year—a whopping $50 million for a home built by Dean Koontz, the author of Odd Thomas, The Eye of Darkness and countless other thrillers. Koontz and his wife, Gerda Koontz, completed the 30,000-square-foot home in the early 2000s, and it's pretty spectacular. The 2.5-acre estate overlooks the ocean and includes two outdoor swimming pools. The interiors take cues from the Art Deco movement—there's even a retro movie theater inspired by Frank Lloyd Wright's Unity Temple on the lower level. The buyer, Glenn Stearns, best known for being the undercover billionaire on Discovery Channel's Undercover Billionaire, is reportedly in escrow to purchase a smaller home next door, which he'll use as a guest house.
Photo : 111 West 57th Street
13. Duplex at 111 West 57th Street, Manhattan, New York — $50 Million
NYC's supertalls had a tough time of it this year. It's a bit tricky to coerce buyers into living in close quarters with other people during a pandemic, after all. 111 West 57th Street (and another building further down on this list) proved the exception. It's not hard to see why—111 is situated smack in the middle of Billionaire's Row, and will be one of the tallest buildings in the city once it's complete. It incorporates aspects of the original Steinway Building, so there's some vintage appeal to it, and the renowned Studio Sofield did the interiors. This particular penthouse is about 7,100 square feet and sits 1,000 feet in the air, so you'll have pretty spectacular views of Central Park and beyond. It's not the first success for the building, either—another two units sold for about $30 million each over the summer.
Photo : Google Maps
12. Units at 220 Central Park South, Manhattan, New York — $51 Million
111 West 57th Street did well, but no building in New York City matched the draw of 220 Central Park South. The same supertall that Ken Griffin infamously dropped $240 million on last year—for a quadruplex penthouse, no less—the tower once again led the charge not just in Manhattan sales, but globally as well. Units 60 through 65 and 70 through 72 all sold this year, with sale prices starting at $51 million for the lower-numbered units and going up to $63 million for the higher ones. (To limit redundancies, we're giving the whole bundle just one spot on this list, so you're not just reading about the same tower over and over again.) What's the draw? At this point, it's largely cachét. It's designed by Robert A. M. Stern, who's among the most sought-after architects in the city and whose buildings typically fill up pretty quickly. The park views are pretty spectacular, too—plus, you're situated in the heart of Billionaire's Row.
Photo : Douglas Elliman
11. South Ocean Boulevard, Palm Beach, Florida — $51.4 Million
They don't call it Billionaire's Row for nothing. The bump in demand for tony coastal enclaves certainly helped this 18,400-square-foot home sell. It had languished on the market for six years, having originally asked a whopping $99 million. Originally owned by Dr. Norman Traverse, a pulmonologist, and his wife, Nassrine Traverse, the estate features a 200-foot dock, a pool and a tennis court. It's also a rare "ocean-to-lake" property, as you have access to the Atlantic Ocean on one side and Lake Worth Lagoon on the other. Listing agents Ashley McIntosh, Chris Leavitt and Gary Pohrer of Douglas Elliman declined to comment on the deal.
Photo : LIV Sotheby's International Realty / Scott Cramer Photography for buyer's agent Tye Stockton
10. Vail Mountain Home, Vail, Colorado — $57.2 Million
This sale was the highest-priced transaction in Vail since 2017. The seller, investor Alejandro Rojas, divided the home into two large apartments so it has double of everything: two pools, two hot tubs and two elevators. The buyer, biotech entrepreneur Kevin Ness, reportedly bought it to be a "generational home" where guests could have real privacy, which is certainly the case for this home, where one half can exist completely independently of the other. Architecturally, it's very modern property—you won't find any cabin-esque trappings here—with maple walls and ceilings. Great for a weekend away or for hiding out long-term from the big city.
Photo : Bespoke Real Estate
9. Southampton Compound, the Hamptons, New York — $57.5 Million
It's no wonder that this Hamptons listing sold in 2020—it's the perfect shelter-in-place spot. The estate is six acres altogether and consists of two chateau-style homes: one that's 4,600 square feet and another that's 9,200 square feet. Outside, there's a swimming pool, as well as private access to the beach. It was once owned by John F. Sullivan, the cofounder of financial advisory firm Sullivan, Morrisey & Mickle Capital Management, according to The Wall Street Journal. Bonus: Inside the main residence, there's a wine cellar and an elevator.
Photo : Mike Kelley for Viewpoint Collection
8. Sky Garden, Bel Air, California — $60 Million
Sometimes all you need is a really good concept (and some equally good renderings). That was the pitch for developer Viewpoint Collection, who presented a 21,000-square-foot home by South African design firm SAOTA—and sold it. The home is partially built, so there's some evidence that the glitzy renderings will come to life as advertised, and the location on top of Bel Air does provide some pretty stellar views. The final product will also include a separate guest house with its own private deck and pool; a larger, infinity-edge pool; an indoor wellness center with a gym, sauna, steam room and hot and cold plunge pools; and not one, not two, but four kitchens.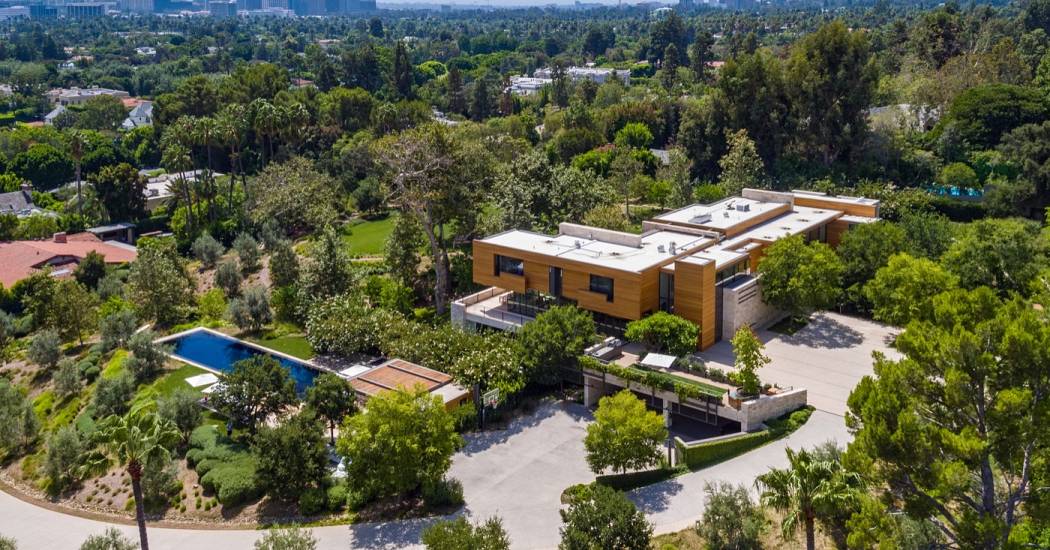 7. The Foothill Estate, Los Angeles, California — $68 Million
It's a home with a whole lot of history, even if it didn't quite reach the $125 million it initially asked for. The home was built by American talent agent and studio executive Lew Wasserman and his wife, Edie Wasserman; the couple commissioned architects Richard Meier and Michael Palladino for the job, who were also behind the Getty Museum's design. The result is an undeniably modern, 18,500-square-foot residence that sits on a 3.2-acre parcel of land, part of which previously belonged to Frank Sinatra. The Hollywood history continues, then, with the home's new buyer, billionaire movie and music producer David Geffen, who snapped it up this year for a pretty hefty discount. Amenities include a 1,000-square-foot home gym, an 85-foot outdoor infinity pool and, of course, a movie theater.
Photo : Google Maps
6. The Winter White House, Palm Beach, Florida — $70 Million
Donald Trump wasn't the only American president who took a liking to Palm Beach. Years before Mar-a-Lago existed, President John F. Kennedy spent quite a bit of time in the area, namely at his own "Winter White House" on the beach. Similarly to an earlier entry on this list, the home was designed by sought-after architect Addison Mizner and sits on over an acre of land, with 200 feet of beach frontage. JFK's father, Joseph P. Kennedy Sr., purchased the place in 1933, and it remained in the family until 1994. JFK reportedly wrote his 1961 inauguration address there and would frequently hold meetings with advisers on the premises. Now, the 15,000-square-foot digs have been sold to an anonymous buyer. The seller was real estate investor Jane Goldman, who purchased the home in 2015 for $31 million. Talk about a return on investment.
Photo : Google Maps
5. South Lake Trail, Palm Beach, Florida — $71.8 Million
Not all Palm Beach homes need ocean proximity to net eight-digit returns. Case in point: the landmarked estate at South Lake Trail, which energy financier Robb Turner and his wife, Lydia Turner, offloaded this year for a record-breaking sum. The buyer's identity remains uncertain, but its draw is almost definitely the historic aspect of the home, which was originally designed in 1938 by noted architect John L. Volk. It's since been restored by the Turners, so it looks just as good as it did 80 years ago. Totaling just over 15,000 square feet and with 180 feet of waterfront—lake, not ocean—there's plenty of space to roam, too.
Photo : Google Maps
4. Meadow Lane, the Hamptons, New York — $100 Million
It wouldn't be a "Most Expensive Homes" list without Ken Griffin. The billionaire and CEO of investment firm Citadel didn't quite snag the top spot like he did last year, but he still managed to make headlines when he bought a seven-acre Hamptons estate from Calvin Klein in February. Klein bought the place in 2003 for $28.9 million but didn't much like what was already there, opting instead to tear it all down and build a new, modern home on the site. Will it sate Griffin's appetite for nine-figure real estate? Unlikely. Expect to see him here again next year.
Photo : Erik Pendzich/Shutterstock
3. 220 Central Park South Penthouse, Manhattan, New York — $100 Million
Here we are again. 220 Central Park South clocked the third-most expensive sale in NYC history this year—behind only another sale at the same building for $240 million and one at One57 for $100.5 million. Unlike those two, though, the details on this particular transaction remain murky, as it was under contract with the developer long before the pandemic began. What we do know is that the duplex apartment is about 9,000 square feet and sits on the 76th and 77th floors. The buyer is anonymous, but it remains a big deal no matter how you slice it.
Photo : Google Maps
2. Jeffrey Katzenberg's Estate, Los Angeles, California — $125 Million
It was a rough year for Quibi founder Jeffrey Katzenberg, as the super-short streaming platform shut down just six months after it started. But at least he sold a pretty impressive piece of real estate. The residence in question is a 26,000-square-foot mansion that Katzenberg custom built, tearing down the original midcentury modern home on the lot after he purchased it. It was reportedly sold to Jan Koum, the cofounder of WhatsApp, who's known for having an appetite for million-dollar mansions—he made this list last year for purchasing a $100 million Malibu manse dubbed "Paradise Cove." In total, the estate consists of 6.4 acres, with an infinity pool and spectacular views of the Los Angeles skyline and the ocean. It's also the third largest sale ever in California, behind only Lachlan Murdoch's $150 million sale of the Chartwell mansion—famous for its appearance in the TV show The Beverly Hillbillies—and the next entry on this list.
Photo : Jeff Hyland (Legendary Estates of Beverly Hills), Xavier Collin/Image Press Agency
1. The Warner Estate, Los Angeles, California — $165 Million
It makes some sense that Jeff Bezos would be behind the biggest property sale of the year. The Amazon founder and CEO's net worth increased significantly this year, so much so that he
was breaking his own records for the world's wealthiest person
—first at a net worth of
$172 billion in July
and then for a net worth of
$200 billion in August.
So what did he spend it on? One of David Geffen's former stomping grounds, actually.
The 13,600-square-foot home
was originally built in the 1930s for Jack Warner, the president of Warner Bros.; Geffen purchased it for $47.5 million in 1990. It's a nine-acre parcel and includes a handful of guest houses, a tennis court and a nine-hole golf course. A trophy property if there ever was one.