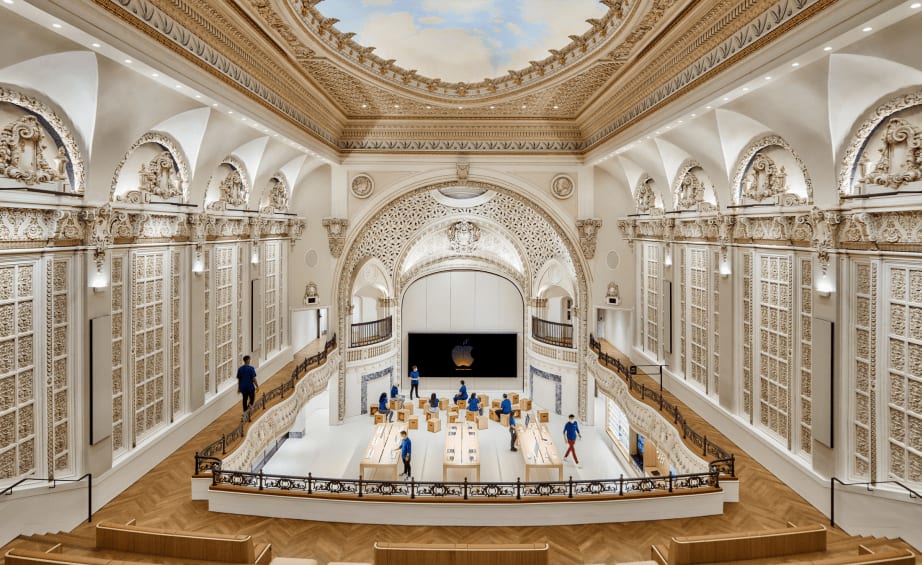 Apple has raised the curtain on its new Los Angeles flagship, Apple Tower Theater. Open from Thursday (24 June 2021), the historic art deco theatre has been painstakingly renovated into a creative hub for the 21st century, that echoes Apple's
global commitment to historical renovation
.
A Short History of Tower Theater
Opened in 1927, beloved local landmark Tower Theater has quite a history. Designed by renowned theatre architect S. Charles Lee, in what was his very first project of its kind, the first film showed was comedy The Gingham Girl. After entertaining LA for over half a century, Tower Theater finally closed its doors in 1988, becoming a protected piece of architecture the following year.
In its glorious heyday, the historic Broadway theatre district in downtown LA would have been 'the place to go; full of life', says Stefan Behling, senior executive partner at
Foster + Partners
, longtime Apple design collaborator. He continues, 'The area has since retained its edge, and relation to the arts.'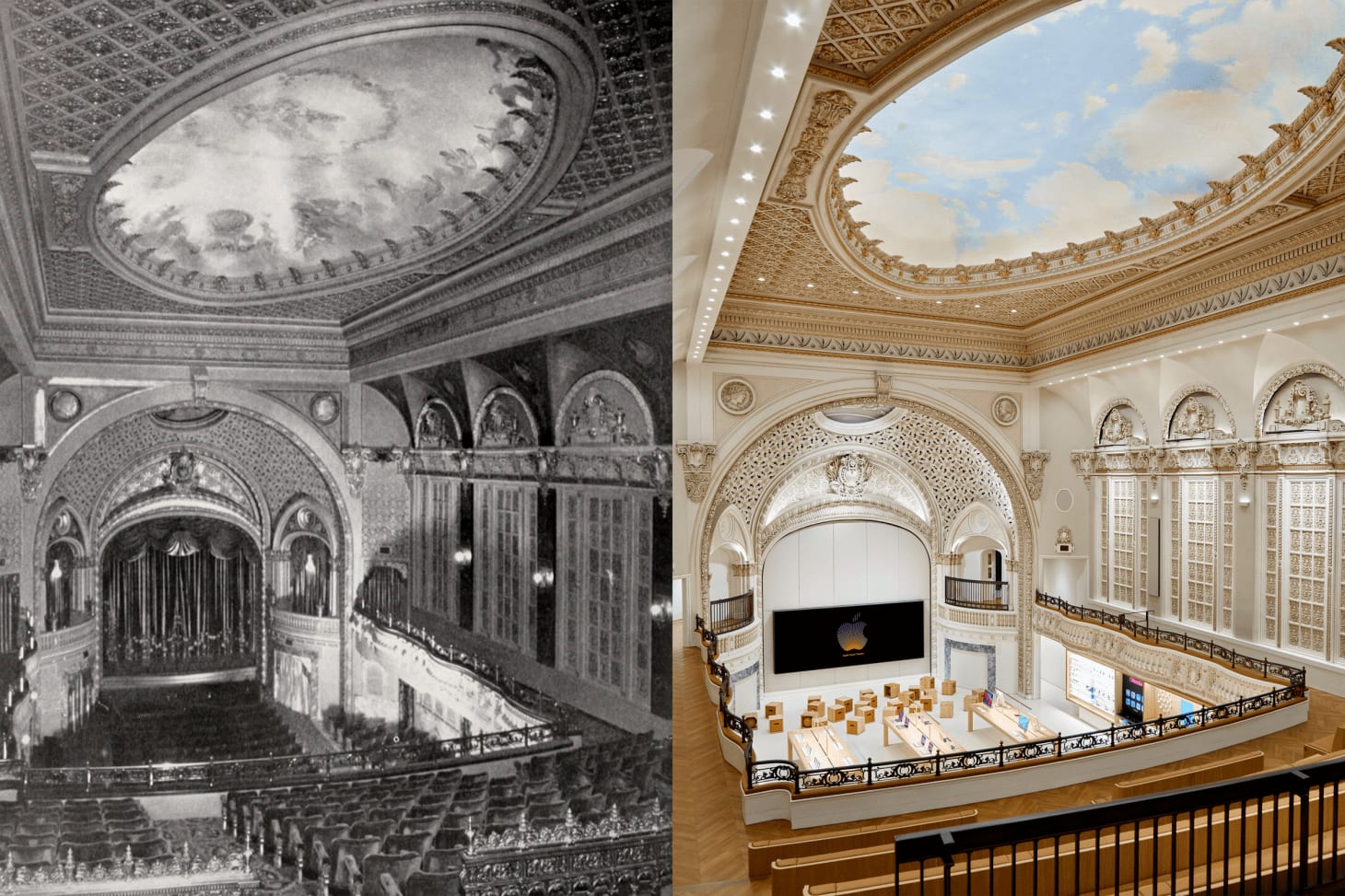 Archive photography showcases how the theater looked traditionally, compared to how it looks today
Apple: The Sequel
Working with a team of preservationists, the Apple design team, alongside a taskforce of local artisans and craftspeople, used innovative techniques like 3D laser scans and forensic paint studies to understand and replicate the original colours and textures found in the old theatre. More traditional techniques were used too, including 'tipping', a stippling method used to prevent brush marks. 'This project has been a true labour of love,' says Doo Ho Lee, director of retail design at Apple.
'Everything was covered in this delicious brown,' says Behling, of the long-shuttered space, pre-renovation. Though the nicotine sheen gave a certain charm to the art deco crystal chandelier, it certainly dazzles now, since being lovingly cleaned in a process that took months of work and dedication. 'You have to approach the restoration as you would approach the restoration of an old master
painting
, carefully peeling back the brine'.
Detailed bronze elements were discovered throughout, nowhere more impressively than the lobby staircase, the glamorous bronze handrail of which steals focus. Glance up, and a once cherub-filled ceiling mural has been toned down with a more minimalist blue-sky-and-cloud
painting
, created to mirror the California sky beyond. Elsewhere, plush leather seating is similar to that of the theatre in
Apple Park
, while also nodding to the cinema-style seating that archival photographs reveal once occupied the space.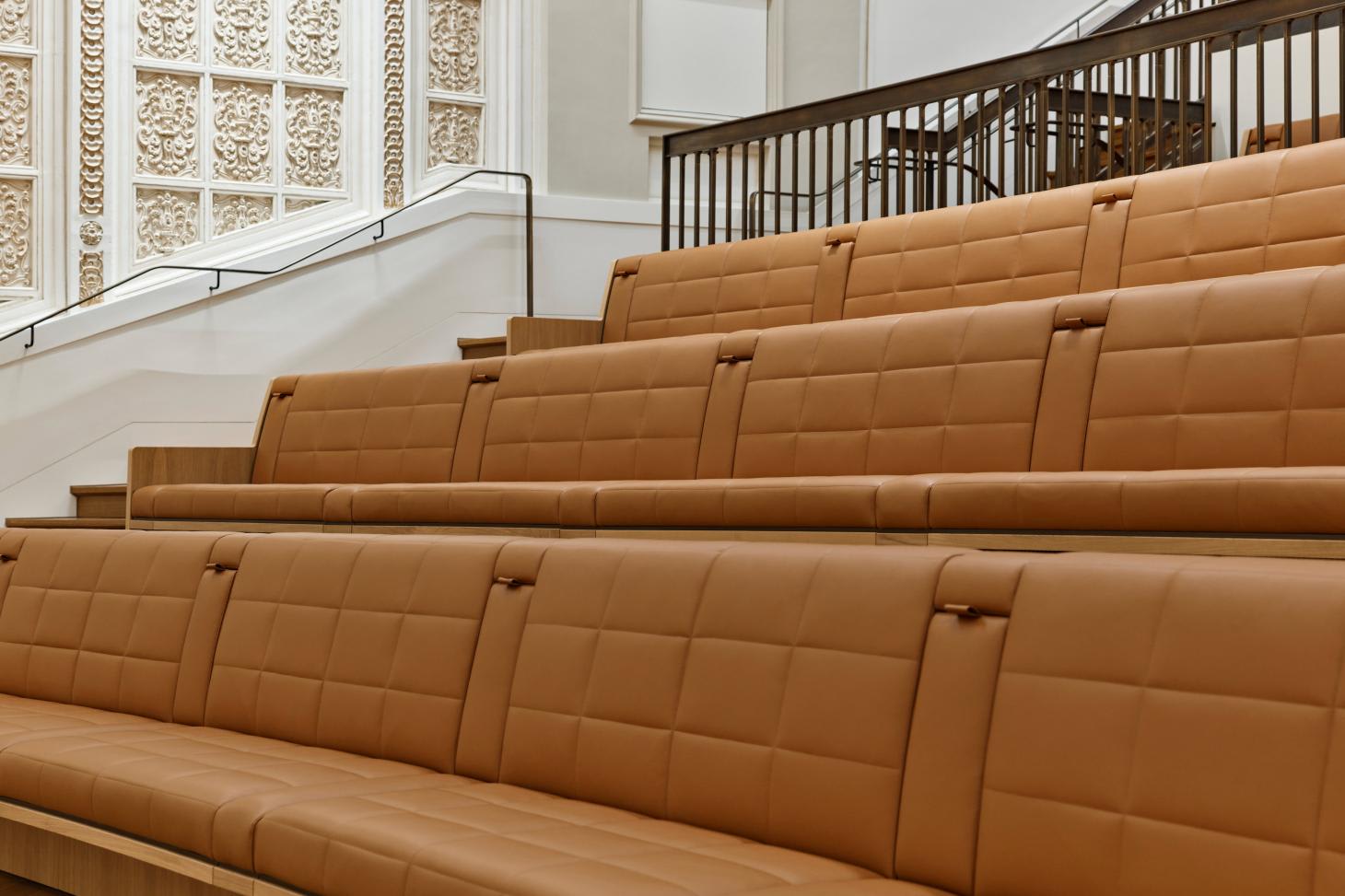 The theater's original balcony seating has been modernised and reformed in Italian leather
Design Collaboration
Despite designing during a pandemic, which forced many of the conversations online, the 12-year-long creative relationship between
Foster + Partners
and Apple continues to showcase results. 'Apple will go all the way with the design details of a space; they treat their store design with the same love and care as they do a product,' says Behling.
As well as a collaboration between Apple and Fosters + Partners, there's a sense that this is also a form of partnership with original architect S. Charles Lee, whom Behling refers to as 'my esteemed colleague'. 'We always ask, "What would the original architect think?"' As with all contemporary Apple retail architecture which is housed in historic buildings (see
Washington DC
,
Rome
, and
Paris
examples) preserving the charm of the original space is of great importance.
Introducing Today at Apple Creative Studios LA
Using the new downtown Los Angeles flagship as its first base (before rolling out in Apple stores in locations globally), a new community-centric initiative developed by the Today at Apple programme is also launching. The project will provide hands-on experience and mentorship to young creatives.
In collaboration with the nonprofit Music Forward Foundation, as well as Inner-City Arts and the Social Justice Learning Institute, Creative Studios LA will provide access to technology, creative resources, and hands-on experience, along with a platform to elevate and amplify up-and-coming talents' stories over nine weeks of free programming. Noah Humes and his mentor, Maurice Harris – two artists who worked on a mural that spans one exterior wall of Tower Theater – will teach a virtual session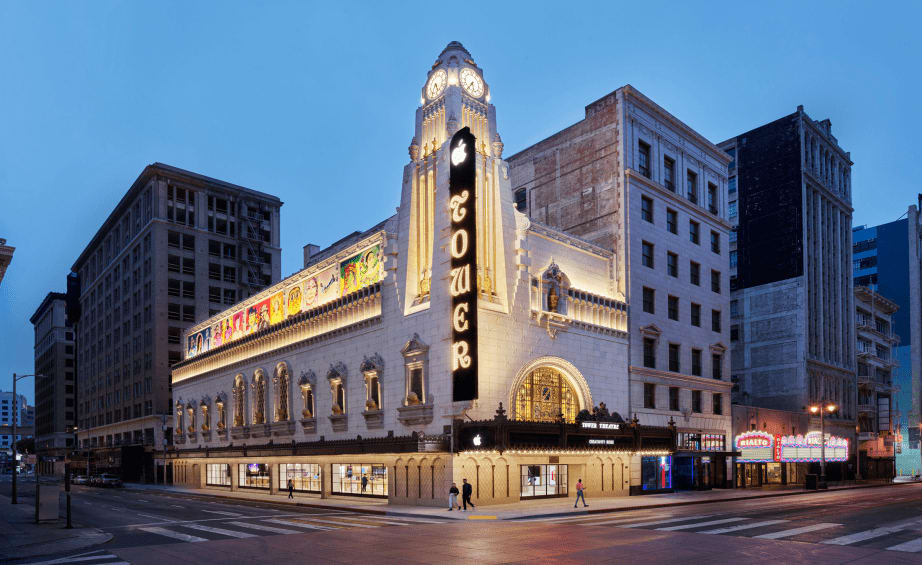 The facade was carefully restored and replaced, using local LA artisans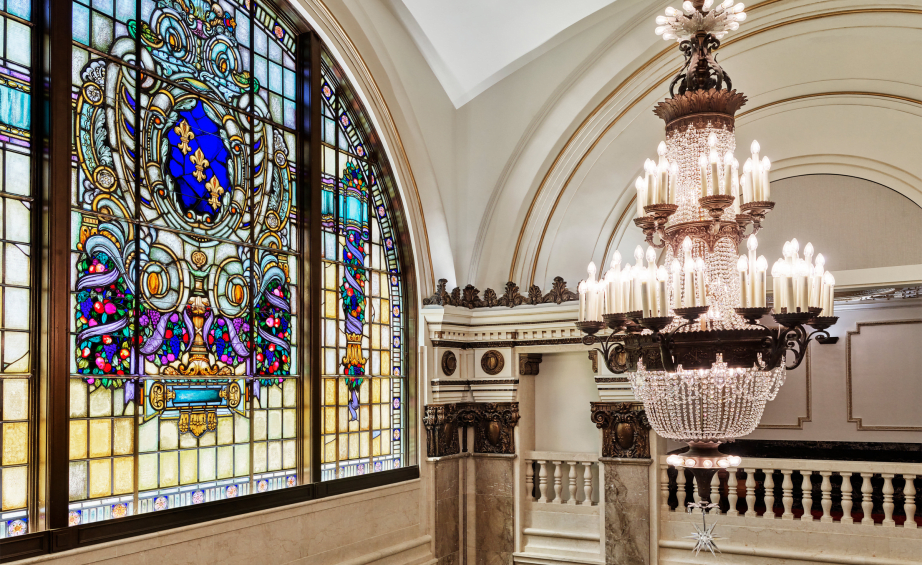 The restored stained-glass window features a unique fleur-de-lis pattern with a coiled celluloid film strip and the purple stripe found only on early sound film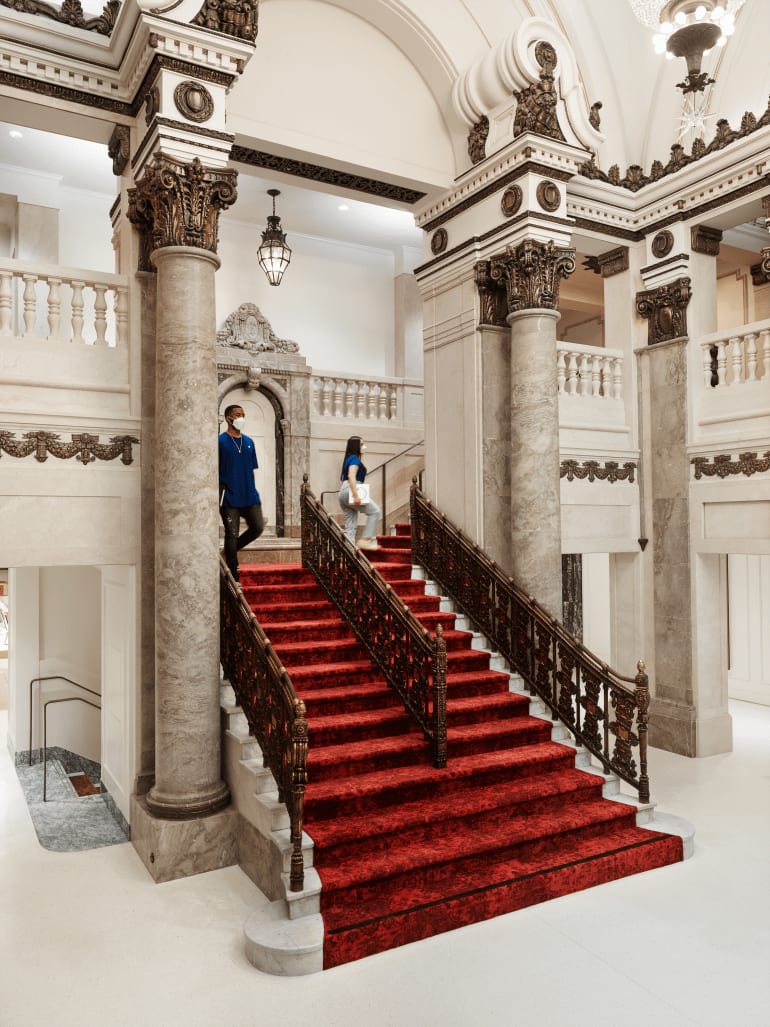 The bronze staircase in the lobby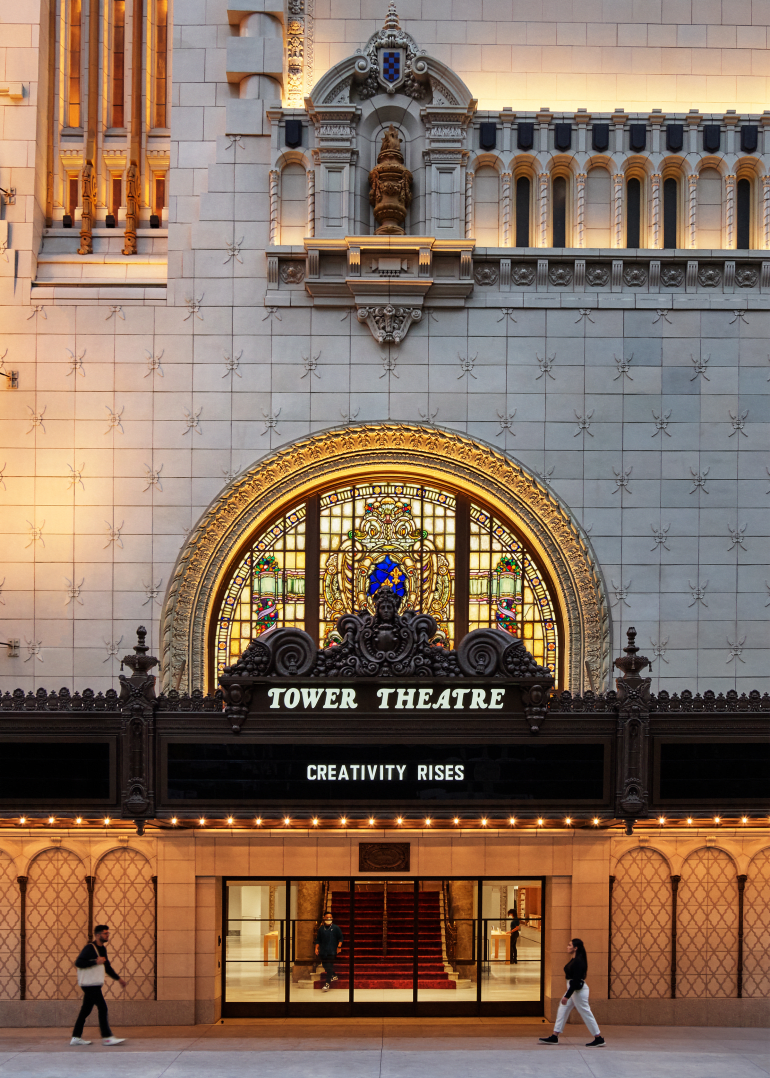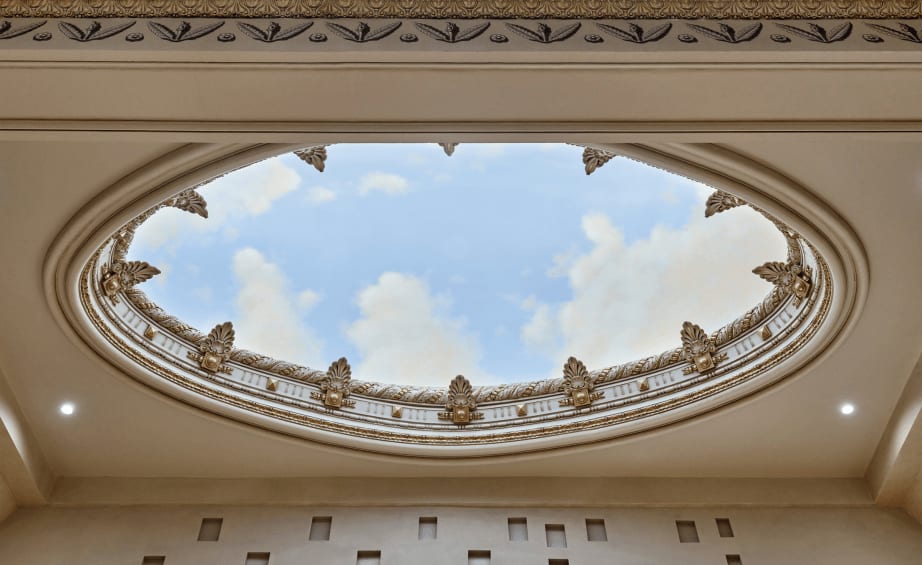 A ceiling mural mirrors a skylight
Artisans restored, repaired, painted, and polished each surface by hand