The famed Sunset Strip has seen its fair share of changes over the last several years. But one Hollywood staple is closing its doors, indefinitely. It's been a devastating 10 months for the hotel industry as the COVID-19 pandemic has largely put a stop to leisurely travel. Combined with a large rent increase, The Standard Hotel, a fixture of the famed Sunset Strip is shutting its doors.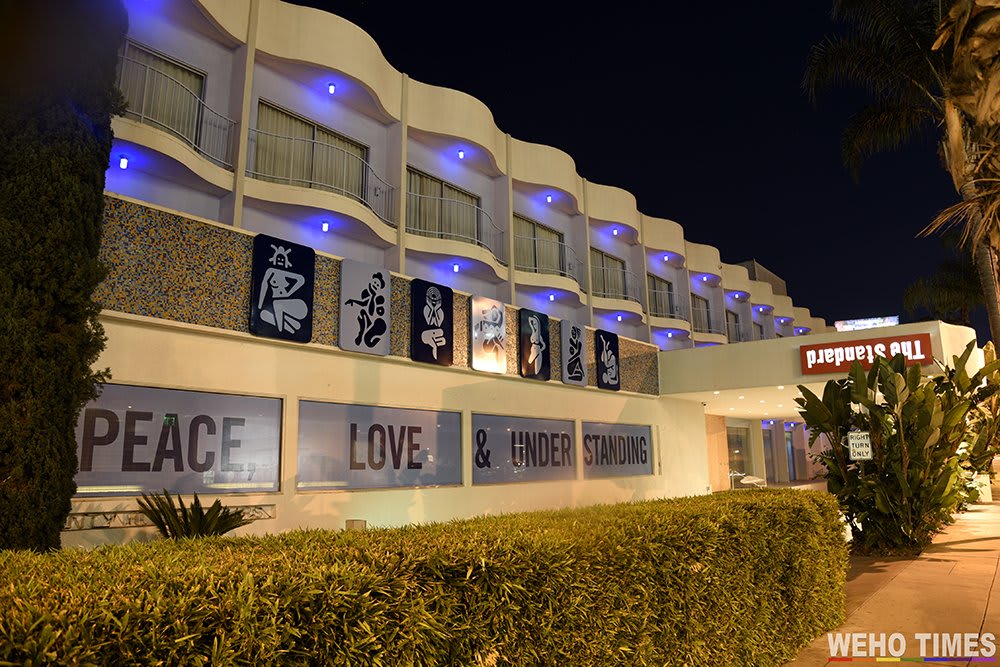 The Sunset Strip standout announced that it will be closing its doors permanently on Friday. "Despite 22 years of unconditional love for our hotel, our guests, our team and our community, the hotel was unable to prevent a significant increase to its lease, which makes operating the property impossible," read a post
on Instagram
. "Alive with personality & personalities, and the backdrop of countless legendary tales, Hollywood was the birthplace of The Standard's culture. It came to life through its timeless design, live music performances at Desert Nights, blue Astroturf pool scene, living art in 'The Box,' and the many late, hazy nights at our nightclub incarnations: Purple Lounge, Mmhmmm and Giorgio's."
While the Standard Hotel was a popular destination for out of town travelers and LA residents alike; known for its hip rooms and groovy pool scene, it was perhaps mostly famously known for hosting its popular installation called "The Box," since its opening in 1999.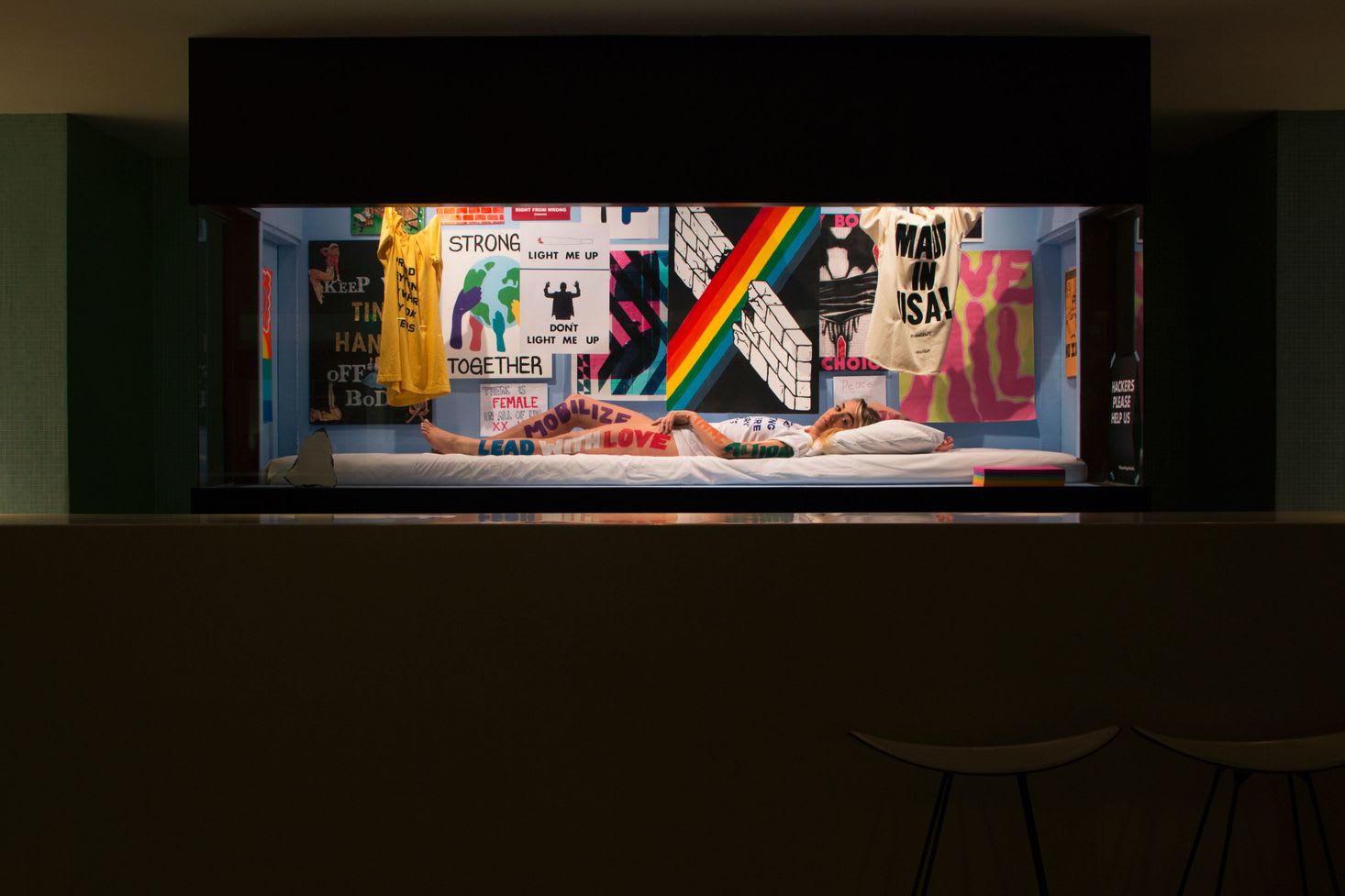 "The Box" in which models, once called "box girls," lounge in a glass enclosure measuring 15 feet long, 4 feet wide, 5 feet tall. It was like "an aquarium for struggling actresses." The box was located located directly behind the reception desk and always contains a mattress, freshly starched sheets, and a pillow, occasionally two. Artists will take over its décor for residencies, papering the space with their works.
There was a rotating shift of models, both female and male, but more known occupiers include the poet
Jacqueline Suskin
, who used the space to take requests for personalized poems; photographer and counterculture figure
Roger Steffens
; and photographer Shaniqwa Jarvis, whose installation "This Charming Guest" featured portraits of artists and writers in rooms at the hotel. "Having to always feel at home in these temporary dwellings while living out of a suitcase is quite difficult and at times soul destroying," she told
Dazed
at the time. "I wanted to work on something that would help me explore more about personal space and what the things you hold dear say about you."
Made popular during an iconic episode of Sex and the City, the girls journey to LA. Upon arrival on the West Coast, they glide into the Standard's West Hollywood hotel and come face to face with a spray tanned man in white briefs, reading Variety while lying in a large glass rectangle. Samantha Jones wiggles and plays with her hair; the man, slick with a new millennium spikey haircut and Atkins diet muscles, softly kisses his fingers and waves. But the model can't get Samantha Jones' number or underwear or whatever she normally likes to hand out, because he is trapped in a box. "Wait, that's his job?" Miranda exclaims. "To sit in a fake fish tank, in underwear?"
via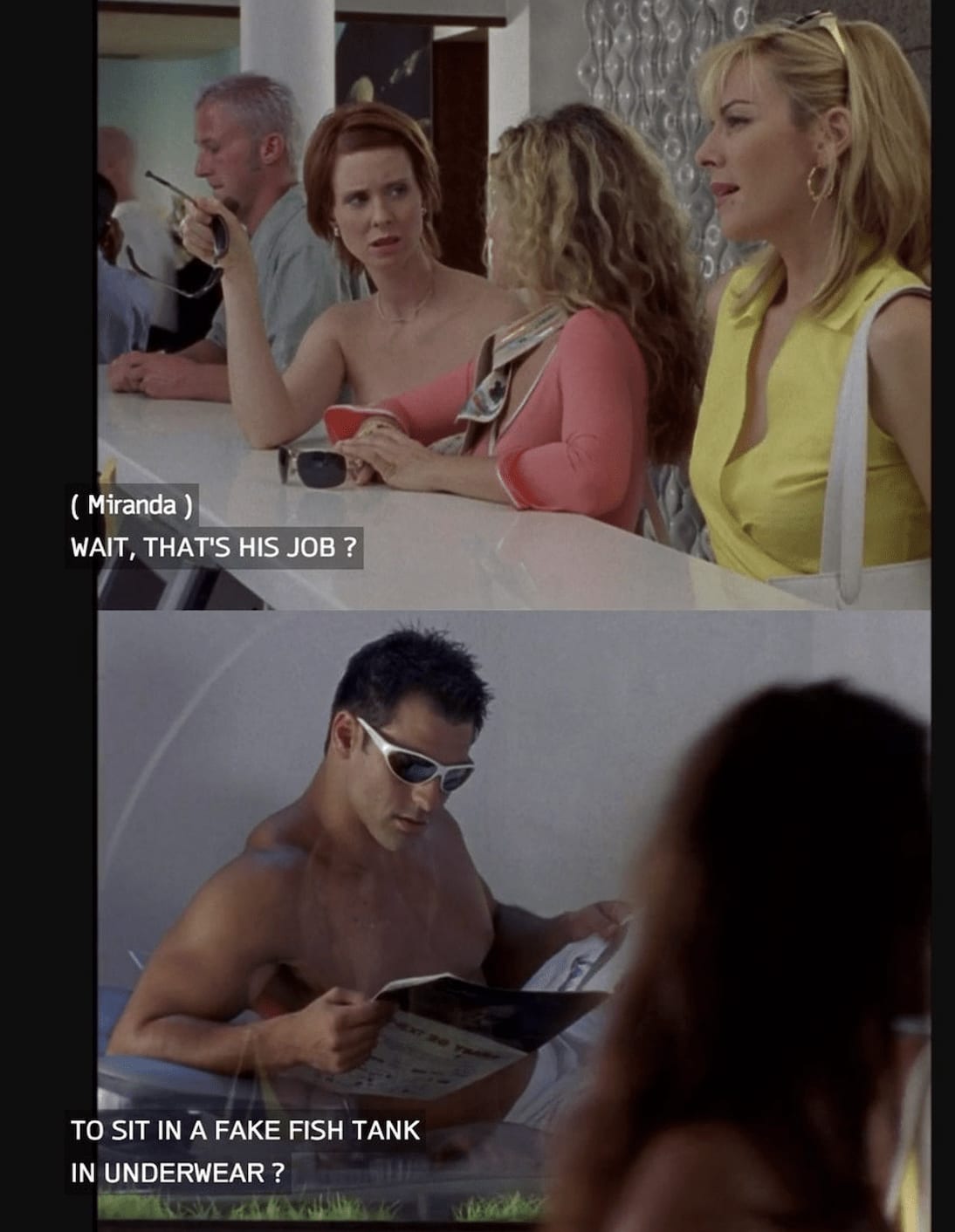 The box was created by interior designer Shawn Hausman, and it was inspired by a theme night at the fabled New York City nightclub he co-founded,
Area
. The club would get completely revamped every six weeks depending on the motif; art director Jennifer Goode created burning crosses and a confessional booth for "Religion," a swimming pool of alphabet soup for "Food." Representatives from The Standard say that when it comes to the box, the themes that garner the biggest responses come from when they, somewhat similarly, attempt to turn the space into "living environments;" growing indigo plants, recreations of overgrown forest floors and arid desert landscapes. And yet. "I don't think it's intentional," Snellings said over the phone. "But the ridiculous metaphor here is that it's literally a woman trapped below a glass ceiling."
via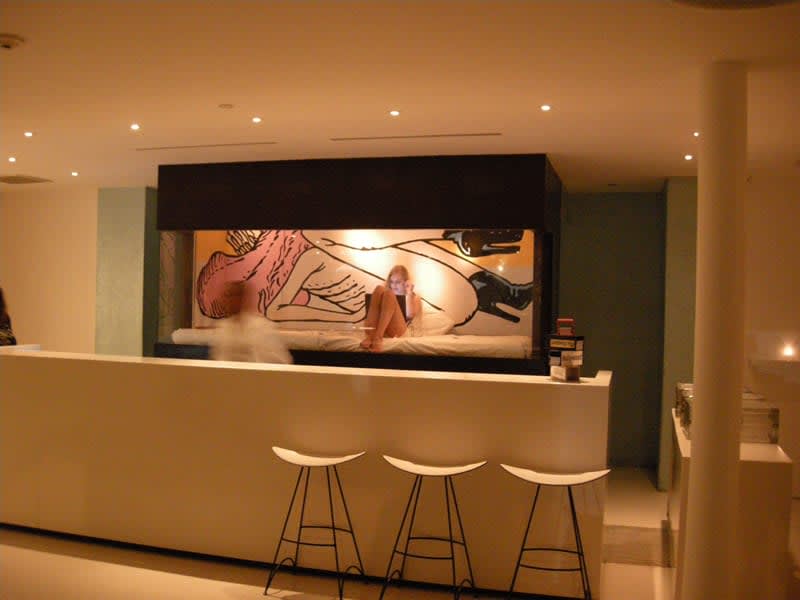 The Standard, Hollywood was the very first of the Standard hotel empire. It is located in a midcentury building on the Sunset Strip, originally constructed in 1962 as the Thunderbird Motel. The décor feels like '60s retrofuturism as imagined by the '90s; the gleaming white lobby has a shag rug and bubble chairs hanging from the ceiling, and rooms feature silver bean bag chairs and curtains printed with Andy Warhol's Flowers. A popular hangout for celebs, the hotel saw its fair share of parties over the years. If only those walls could talk...