If you ask Angelenos, Los Angeles has it all—beaches, mountains, deserts, farms, and cities. But that doesn't mean a change of scenery isn't necessary from time to time. This summer, a slew of new and beloved hotels beckons from Sonoma down to San Diego, with distinctive—and inspiring—atmospheres scattered liberally in between. Road trip, staycation, vacation: Whatever you care to call it, an escape from L.A. is an essential part of life in the great state of California. Here, 10 alluring choices.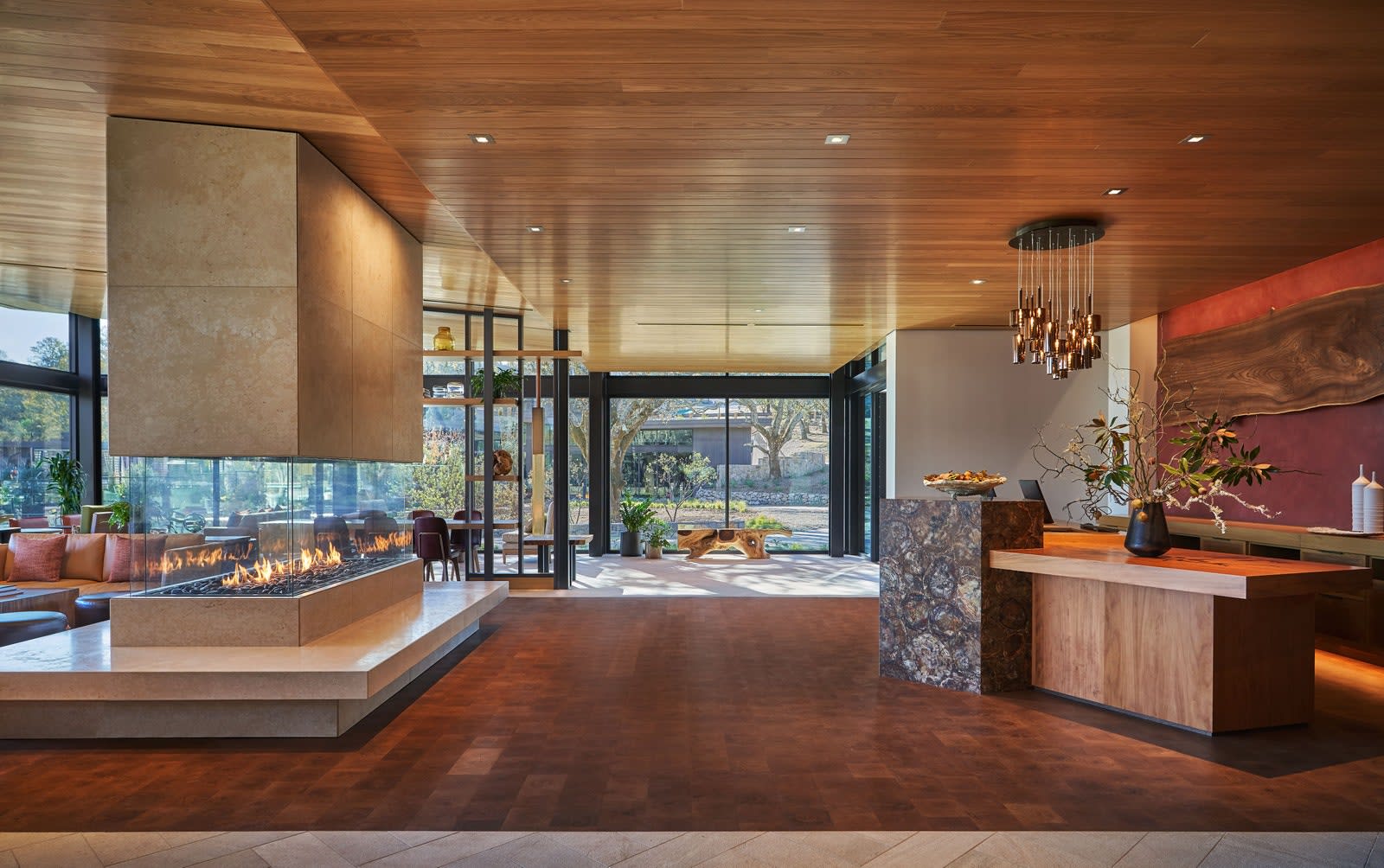 Sonoma County buzzed for years about this hotly anticipated luxury resort, where patrons find an expansive 258-acre property with low-profile architecture in service to the landscape. More than 20,000 mature oak trees take top billing, while minimalist structures housing 130 guest rooms and suites, a spa, and the already wildly popular Hazel Hill restaurant blend right in, with floor-to-ceiling glass reflecting the lush green scene. In the California way, indoor-outdoor living is emphasized, courtesy of large terraces, firepits, and outdoor showers. The "out" is brought in via plenty of elegantly finished wood furnishings and rich earth tones, plus custom art featuring bark cast from trees on the resort. A perfect day takes advantage of the hiking trails (or e-bikes), curvy pools, the sanctuary-like spa, and the vibrant culinary program. From $995/night.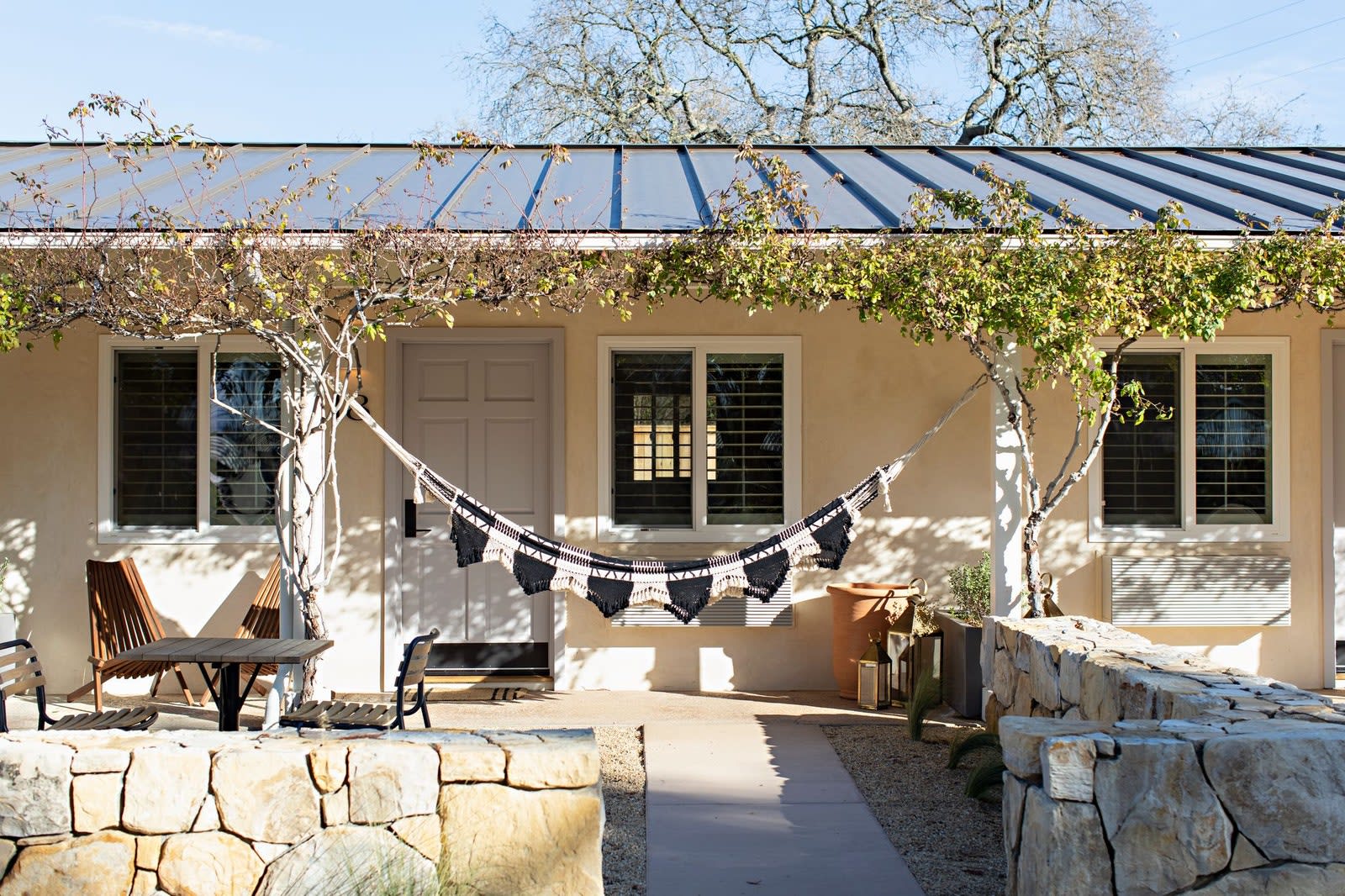 Another wine-producing region, Santa Ynez, is now home to the second charming transformation by Nomada Hotel Group (Skyview Los Alamos). The team performed a full makeover of the former Meadowlark Inn and its two acres, bringing a casually cool look to 22 roomy accommodations, now studded with local art and vintage vanities. There are tiled fireplaces, rattan headboards, Adirondack chairs, Moroccan rugs, and woven L'aviva hammocks hand-crocheted by women in a Bolivian Amazon village. In lieu of a standard restaurant, guests can purchase BBQ kits to cook on a retro Weber grill. From $179/night.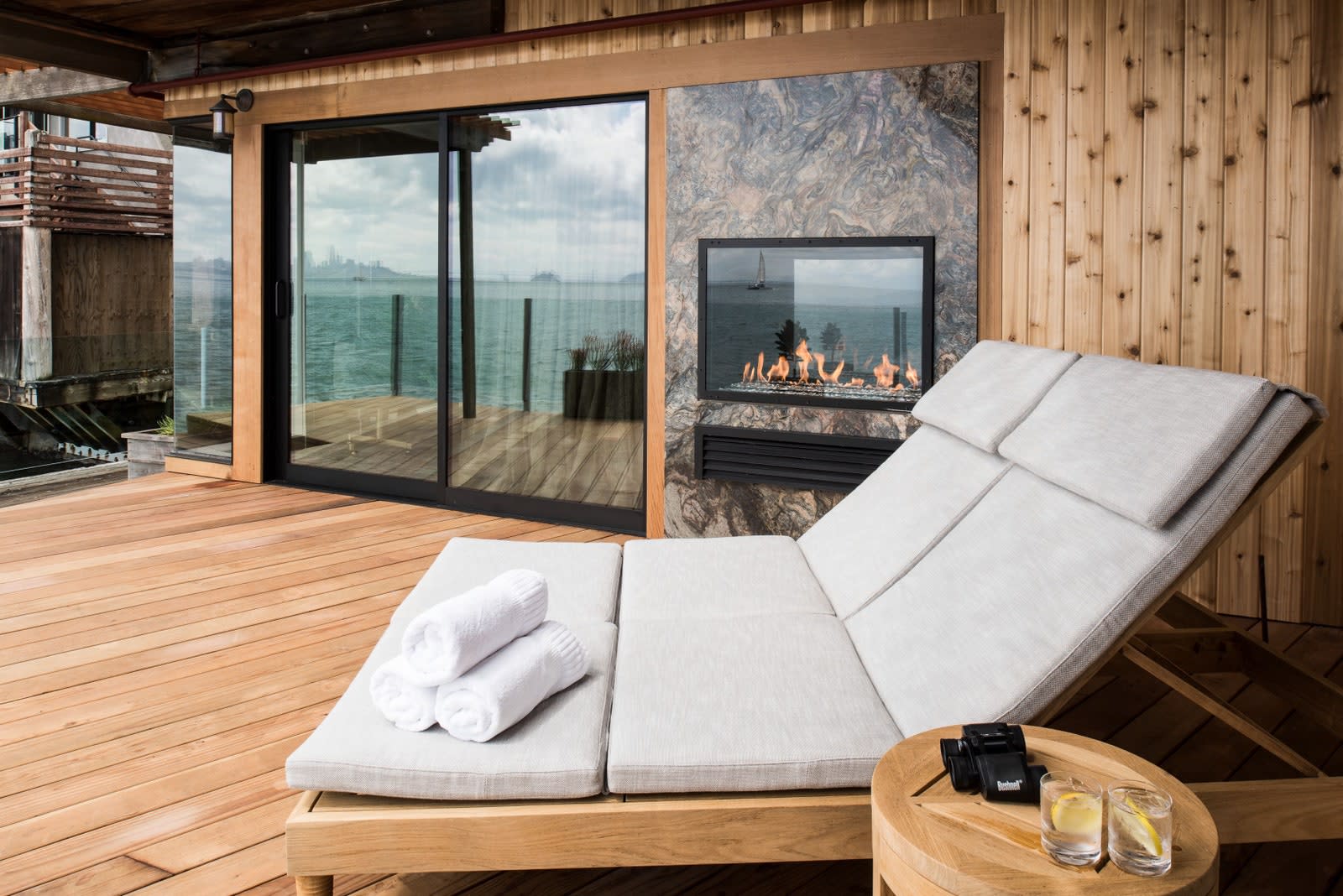 Never have thousands of weathered wooden shingles hidden anything so magical: At this Sausalito boutique hotel, every one of the 33 rooms and suites doles out unencumbered San Francisco Bay views. This luxury property gives guests sensations not unlike that of an overwater bungalow, especially from two suites featuring painterly silk-printed wallpaper and modern swivel furniture that keeps guests from straining their necks as they pursue the panorama that floats above turquoise water beyond expansive wooden decks. The dreamy palette, luxe tchotchkes, books, and coastal mixed-media artwork were devised with a heavy influence from the sea. Enjoy it alongside locally sourced breakfasts and sunset wine and cheese. From $425/night.
The first new-build resort for luxury hotel brand Alila is in a San Diego County surf town, where barefoot luxury is the concept baked into every element, from a partnership with environmentalist surfer Rob Machado to the name Marea, meaning "tide." The 130 rooms include two presidential suites with soaring windows—and dual-sided fireplaces—revealing mesmerizing Pacific Ocean and lagoon views from the resort's perch atop a dramatic bluff. The oceanfront pool deck's walls were shaped by local surfboard shaper Brian Szymanski, with a sea-centric, sustainable approach also taken in the design, spa, and restaurant, called VAGA. From $629/night.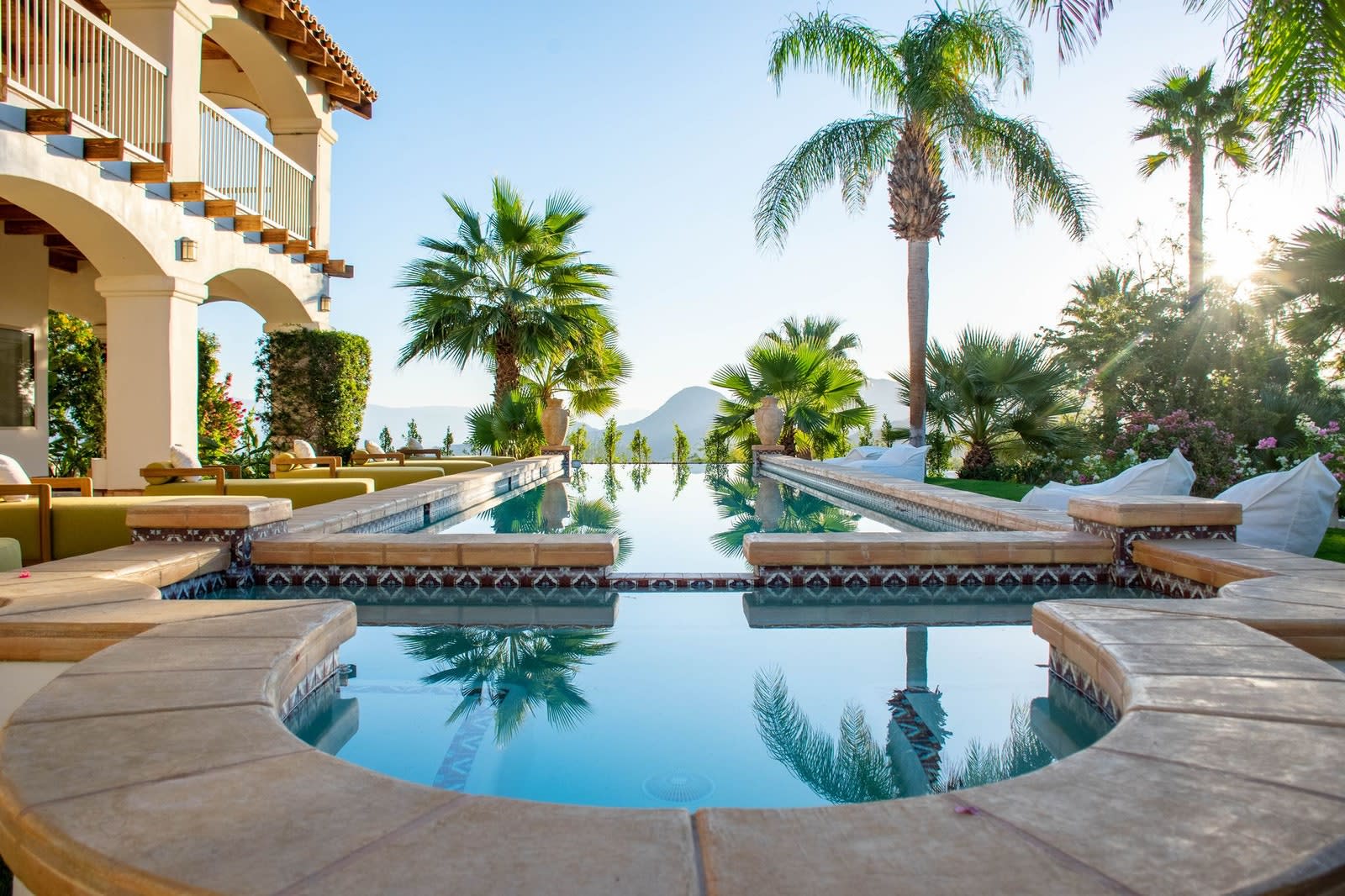 This Palm Desert estate is like a Rosewood resort in miniature, complete with a helipad and a little pond with its own sandy beach. The staffed five-acre oasis that sleeps 18 is embraced by a 360-degree patchwork of mountains and valleys, plus Edenic gardens bursting with butterflies. Equally awe-inspiring are the glam, cathedral-like living room and almost endless saltwater pool, the property's heart. Modern meets Spanish hacienda architecture—there's a working mission bell—for relaxed refinement: See covetable wallpapers including a life-sized tropical leaf motif inspired by Pierre-Joseph Redouté, and custom furniture intermingling with vintage. From $3,800/night.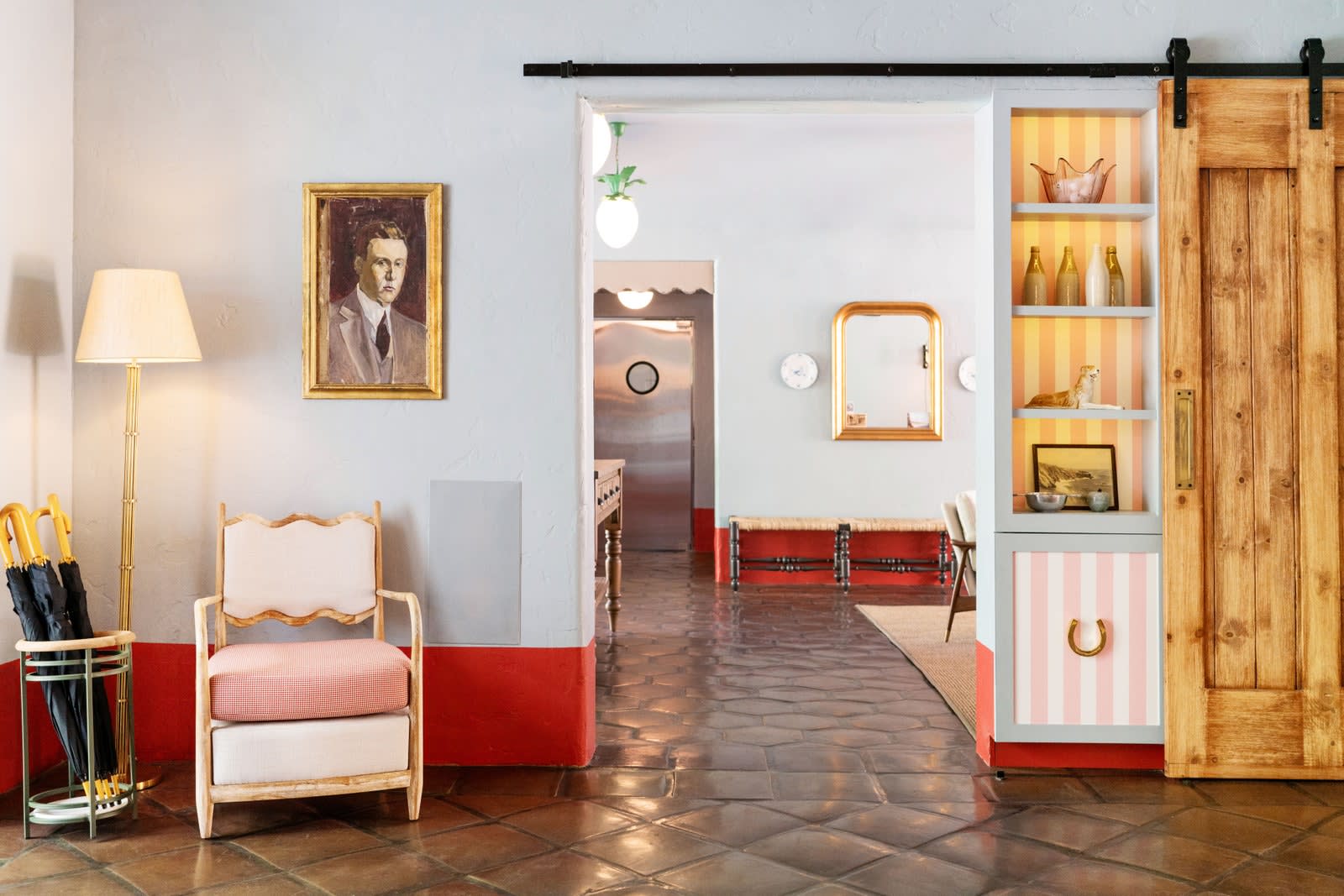 In March, the circa 1920 Santa Barbara School of the Arts in the Presidio neighborhood entered a new chapter as a pet-friendly boutique hotel with 24 rooms. This bolthole feels less beachy and more European, an intentional deviation from the norm. The lively design marries a preppy vintage aesthetic with an American Riviera sensibility, resulting in eye-catching details like a pink glass chandelier, floral armchairs, printed draperies, and needlepoint throw pillows stitched with P. Rooms have gas fireplaces and a balcony or patio, and there's a pool, plus a hidden-away after-hours Honor Bar. From $395/night.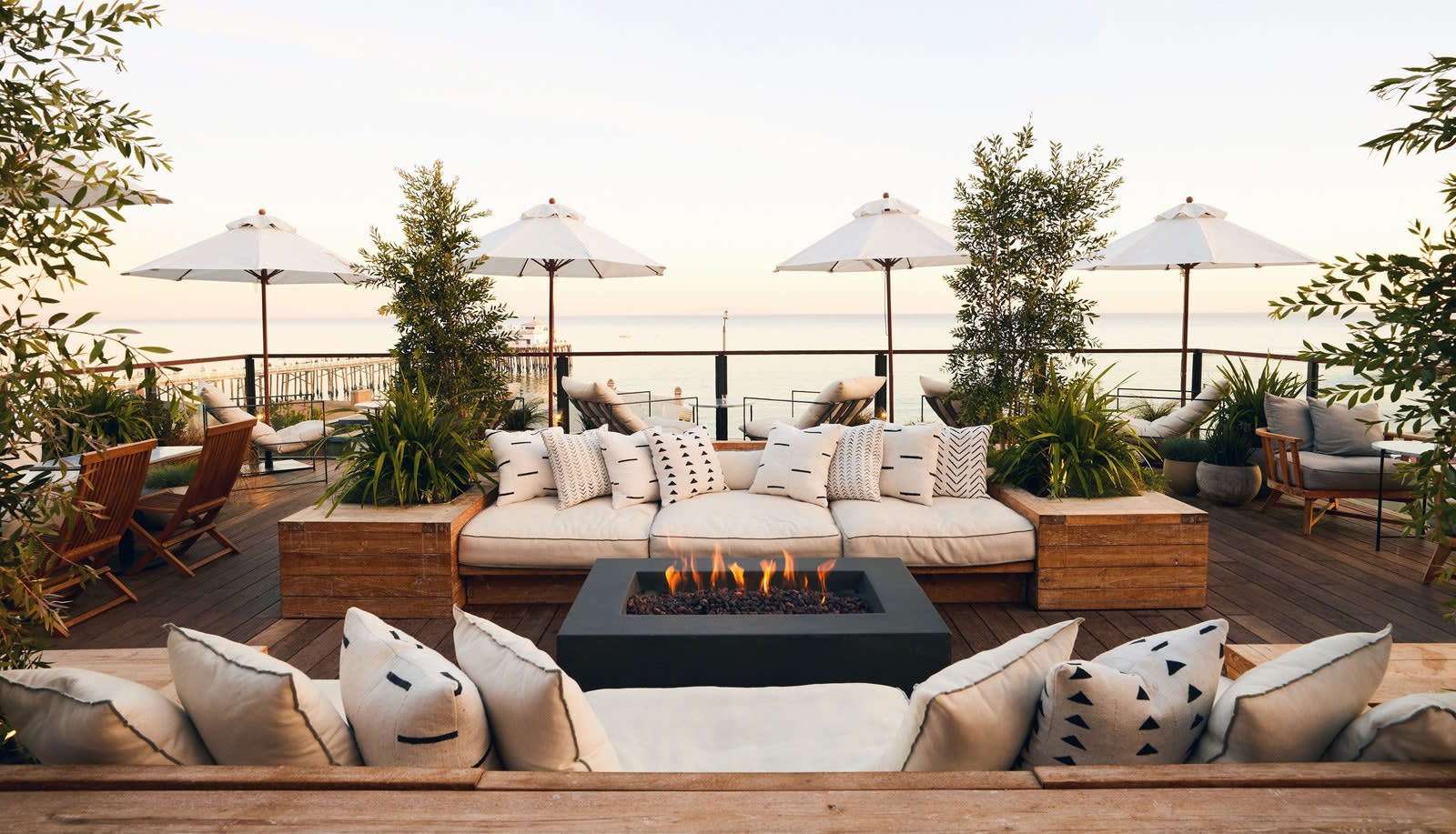 Though just in Malibu, this 1953 motel turned boutique hotel fixed on blue-toned views of an iconic surf break feels a world away from L.A. With beautifully—and locally—made blonde wood furniture by L.A.'s Croft House, bespoke scented candles, and the most scrumptious minibar for miles, it's the private beach house of your dreams. That there are 19 other rooms seems inconsequential: When you're cradled in the Amazonian-handmade hammock on the ocean-facing balconies, it's just you and some palms and the azure lines of surf. Besides, the epic rooftop is intimate and exclusive enough to feel all your own—only those overnighting can dine and sip on sustainable, hyperlocal, and super-fresh creations by chef Jacob Wetherington, whose picnics elevate every outing—hikes, surf safaris, or road trips in the complimentary Mini Cooper. From $325/night.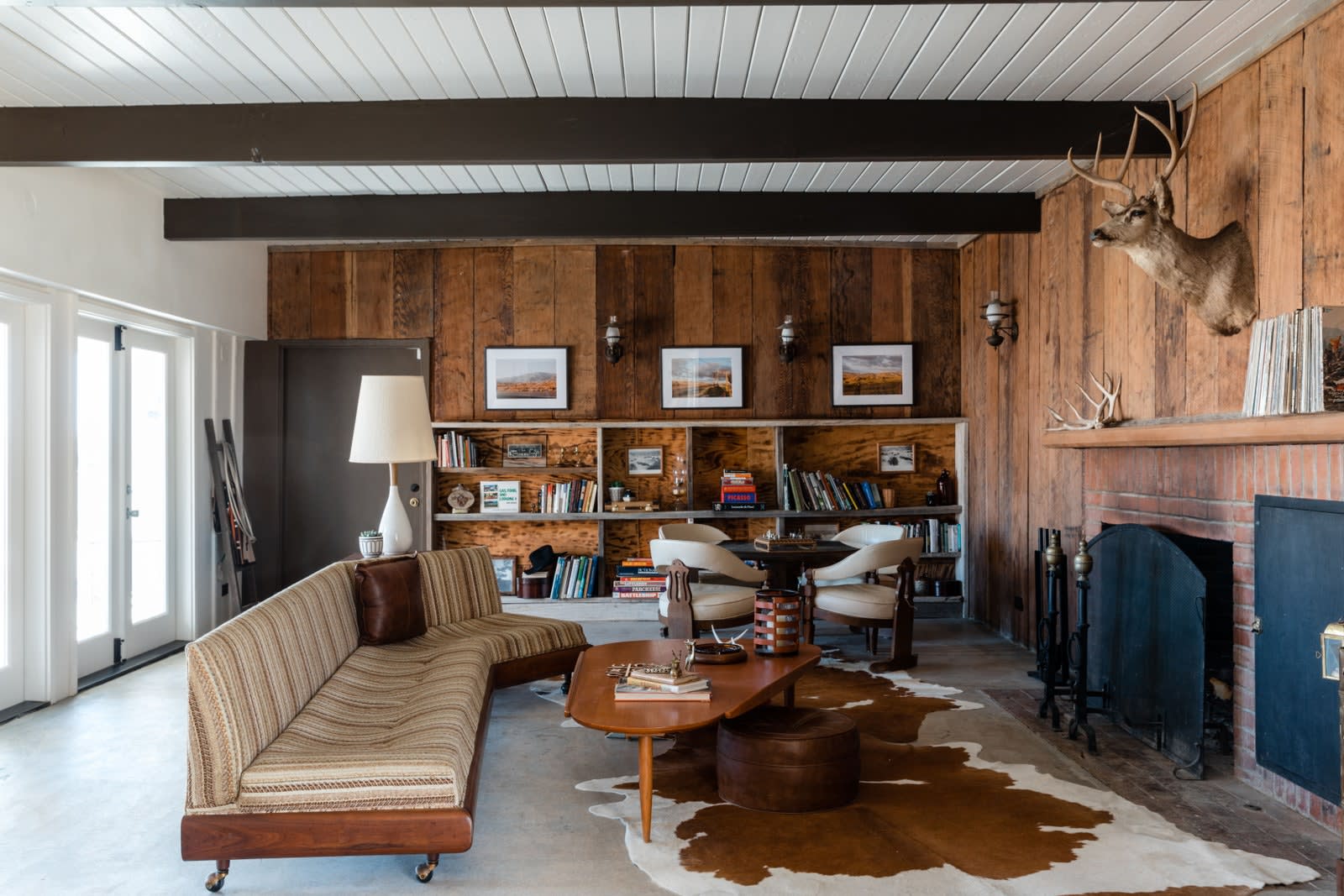 Cuyama Buckhorn is the kind of boutique hotel where felt cowboy hats pass as bedroom wall decor and porcelain washbasins sit atop rustic wooden consoles with authentic horseshoes as drawer pulls. It's also the kind of place where the sauna is housed inside a big wooden barrel. The lovingly redesigned Santa Barbara–area high desert hotel with a midcentury Western-meets-farmhouse aesthetic was originally a 1952 roadside motel designed by George Vernon Russell (L.A.'s Natural History Museum). Wait for the idyllic sunset firepit moment by playing bocce ball or pool or taking an alfresco cooking class. From $329/night.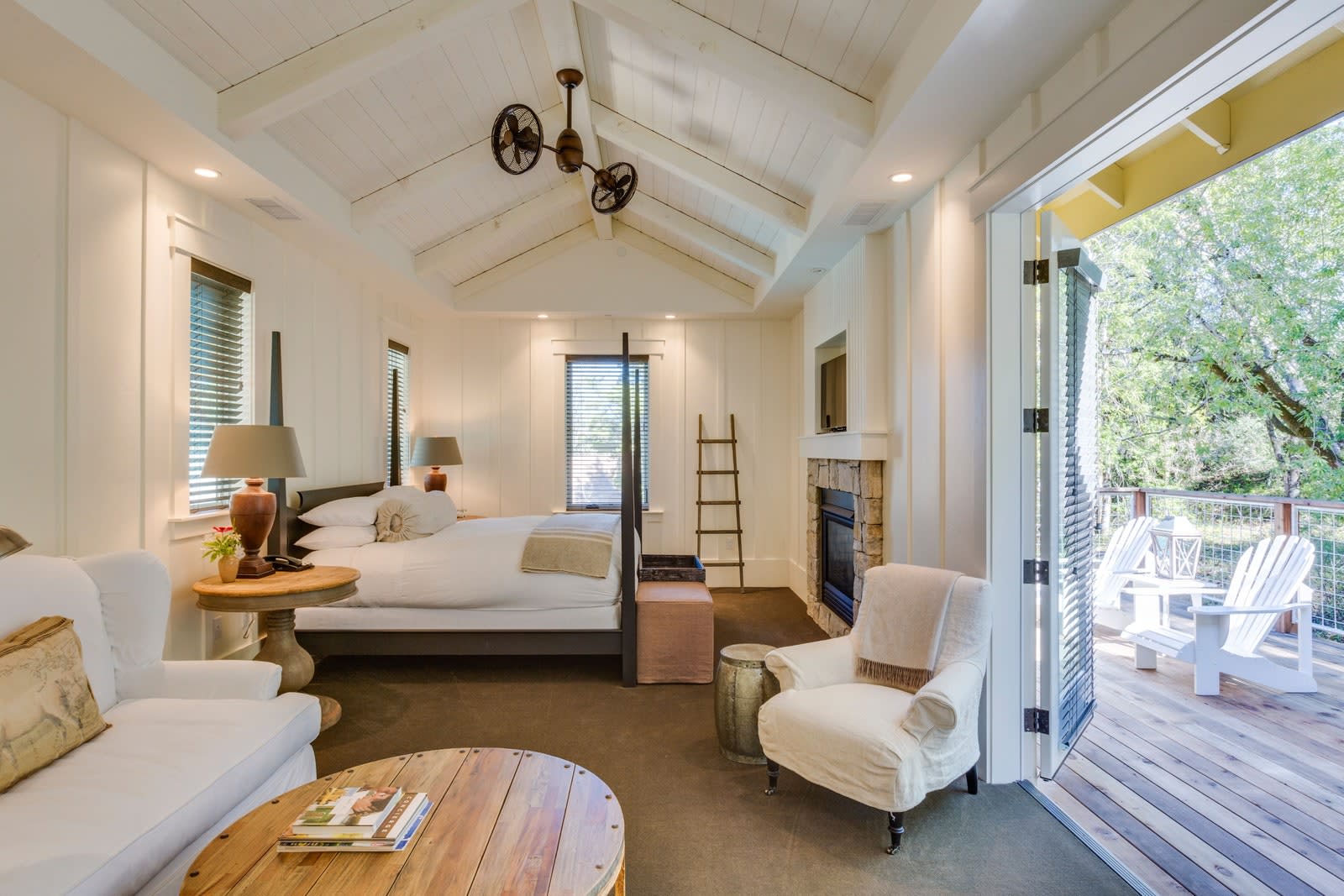 There's no better welcome than a glass of Sonoma wine and instantly addictive fudge-like s'mores brownies. The delicacies greet guests at this gem of a 25-room luxury hotel by siblings Joe and Catherine Bartolomeis. Twenty years ago, the pair built the buttery yellow property around a restored classical 1873 farmhouse, with a pool that vaguely resembles a wine bottle. Many of the bright guest rooms have four-poster beds, plus fireplaces, huge tubs, and saunas or steam showers in which to melt with lavender bath salts and artisanal soaps. Each night, gourmet s'mores fixings tempt at flaming firepits. At the unpretentious Michelin-starred restaurant, chef Steve Litke devises dinners that dance on the tongue, using produce picked from the owners' farm and hotel gardens. From $775/night.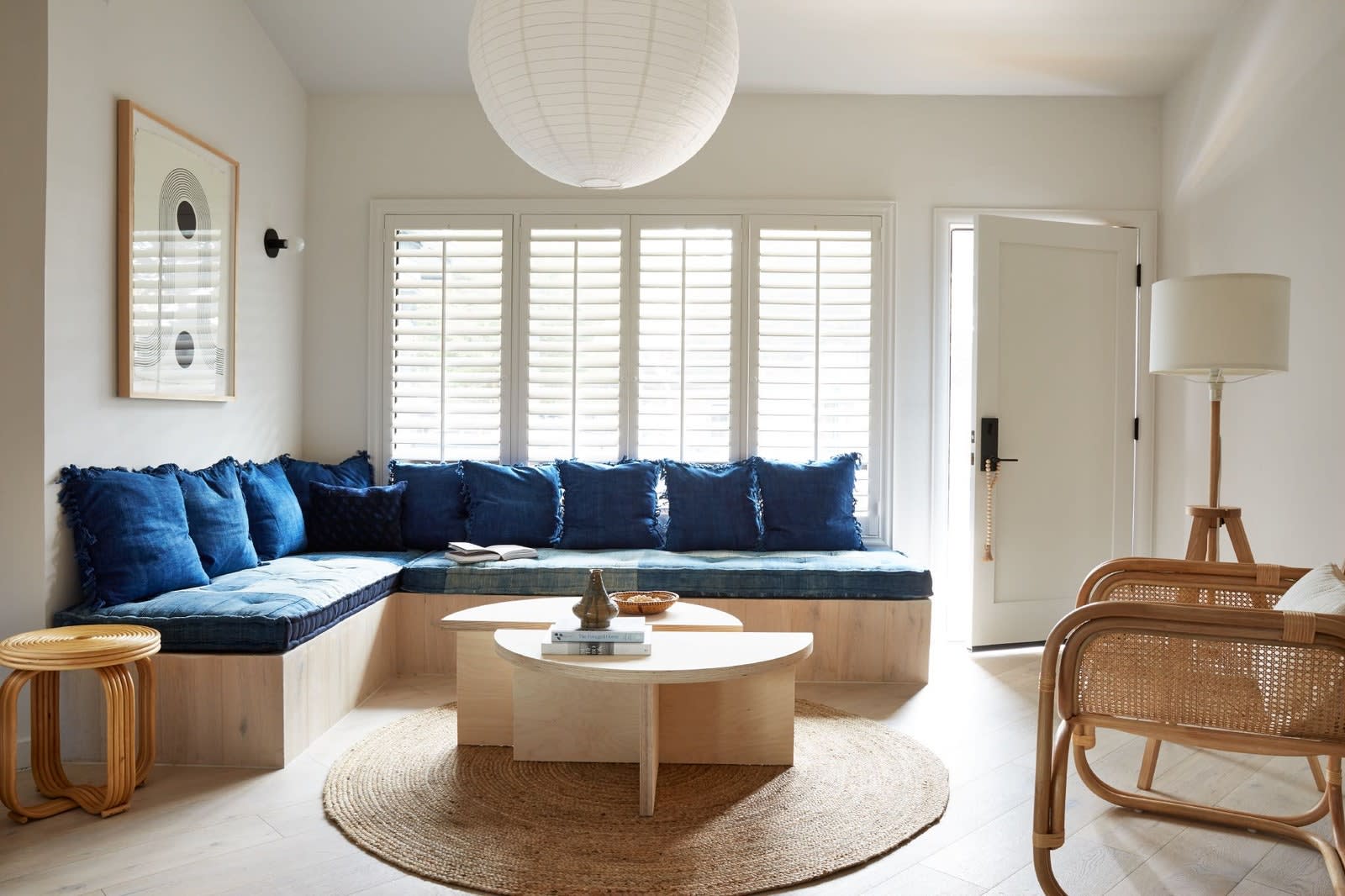 Haus Interior founder and author Nina Freudenberger dreamed up this 25-room hotel on Cambria's Moonstone Beach to have a Danish seaside feel. Monterey pines dot its deep midnight-hued cladding, but the bright lobby—with its sculptural sofa, woven baskets, jute rugs, and picture windows—reveals a dedication to a chic, easygoing beach life. Baltic birch slats formed headboards, duck canvas became curtains, and indigo-dyed vintage textiles were hand-stitched into cushions for window seats. The bathrooms are their own kind of covetable, with terrazzo countertops, two-tone tiled showers, and even a horse trough turned outdoor tub painted two shades of evergreen. From $429/night.